Monday, October 24, 11 AM to 5:30 PM. Join the OWLS as we travel to Southern Supreme Fruitcake Factory! We will leave GHBC (carpool) at 11 AM for lunch at Bestfood Cafeteria at 12 PM. We will go to Southern Supreme about 2 PM, then leave for Creative Creamery at 3:30...
read more
Volunteers Needed: Saturdays, September 24 through October 29 at Phillips Farm! We will simply introduce ourselves and point people to our campus promoting Good Hope's different ministries and activities. We encourage all ages and especially families to sign up....
read more
Sunday, October 16 after Worship Service. Room G106. Lunch and childcare provided. For existing members wanting to learn more about Good Hope or for those wanting to join! Click HERE to sign up by Thursday, October 13.
read more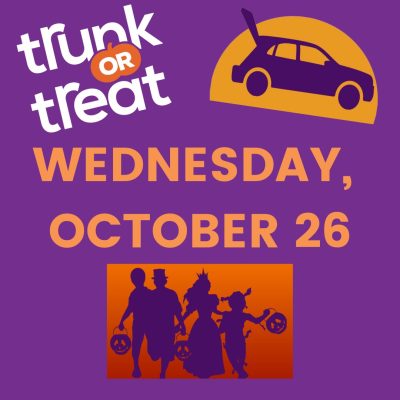 Wednesday, October 26. 6-8 PM Hot dogs, trunks, treats, and more! Your help is needed. Decorate your trunks/truck beds/boats/trailers with a game, bible story, or activity and pass out candy. Also, please bring in individually wrapped candy. There is a collection area...
read more
Church Wide News & Events
October 14: Unpacking Party (get items ready for shoeboxes), 2 PM October 15: Shoebox Packing Party, 10 AM November 14-21: Shoebox Community Collection Week Click Here to help! Also, sign up at Connecting Point or side FLC Lobby Welcome Desk. For October/November, we...
read more