Preschool At Good Hope Baptist Church
Preschool Mission
Good Hope Preschool's mission is to introduce children to Jesus Christ, our Lord and Savior, through a Christian-based program aimed at balancing development in the following areas: social/emotional, physical, cognitive, language, and spiritual.
"Whoever welcomes one of these little children in my name welcomes me; and whoever welcomes me does not welcome me but the one who sent me." Mark 9:37
Preschool begins on Tuesday after Labor Day and ends on Wednesday prior to Memorial Day. We will follow the Wake County School traditional calendar observing all Wake County School holidays and workdays. You will find Good Hope Preschool in the Children's Building, the building to the right of the Family Life Center (FLC).
All classes meet from 9:00am – 12:00 noon.
The most important goal of our curriculum is to help children become self confident, inquisitive, enthusiastic learners. This means encouraging them to be active and creative explorers who are not afraid to try out their own thoughts. We are teaching children how to learn, not just in preschool, but also all through their lives. We are allowing them to learn at their own pace and in ways that are best for them. We are giving them good habits and attitudes, particularly a positive sense of themselves.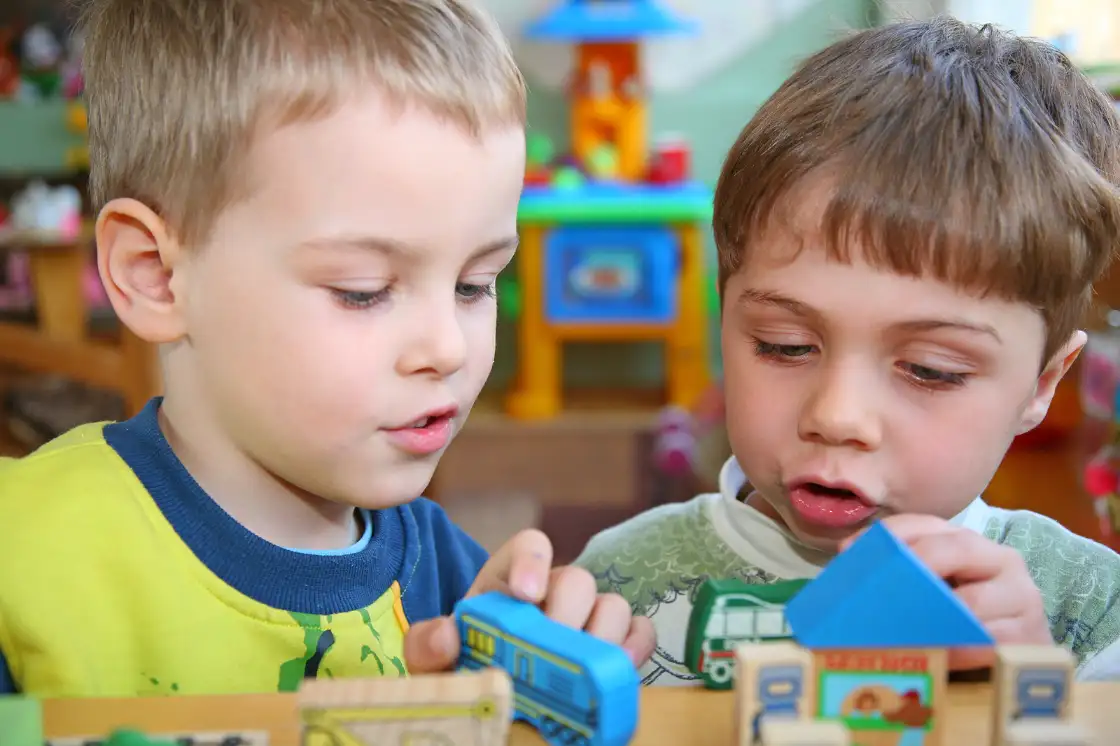 Each of our classrooms has one teacher and one assistant. Each day, children will be involved in free play, circle time, centers, snack time, and outdoor play. Regularly, they will be participating in chapel, music movement, library, science explorations, and sand and water play. Your child's morning will be packed with stories, songs, movement, learning and play. Play enables us to achieve the key goals of our early childhood curriculum, The Creative Curriculum. Play is the work of young children!
HOW TO REGISTER FOR PRESCHOOL
Click the button below to download our Preschool Registration Form.
If you are interested in seeing the preschool, please send email to preschool@goodhopechurch.org to make an appointment. Tours will be conducted by appointment only at 10:00 am on 1/9/2024, 1/10/2024 and 1/11/2024. I will take appointments starting 1/3/2024.
Registration forms will be accepted beginning January 16, 2024. Completed applications should be placed in an envelope (marked "Public Registration") with a registration fee check attached. Your envelope may be brought to the Preschool office between 9:30-1:00 pm, Monday through Friday and must be at Good Hope Preschool no later than 12:00 pm (Noon) on Wednesday, January 24, 2024.
Each child needs a separate registration form and fee. The registration fee is $160 and must accompany the application for consideration. The registration fee will be returned if your child is not enrolled, otherwise it is nonrefundable. Please place multiple applications for the same family in ONE envelope.
By marking a first and second choice of the days of the week you prefer, we are able to place your child in an open class. If you mark only one choice and that class is full, we will not place your child in a different class.
Please note on the form if you would like to be placed on a waiting list if your child does not get a class spot.
Registration will be conducted by a drawing on Thursday, January 25, 2024. Applications will be drawn in random order and class slots filled accordingly. You will be notified by email by 2/2/2024.
We have a waiting list for students who do not make the initial class enrollment.  You will be notified by phone and/or email of any openings as they become available.
To be placed on our waiting list you may simply:
Provide the birthdate, including year, of your child
Provide your name, phone number, email and child's name.
Children must be 2 years of age by August 31st of current year to be enrolled in our 2-year old program.
Children must be 3 years of age by August 31st of current year to be enrolled in our 3-year old program.
Children must be 4 years of age by August 31st of current year to be enrolled in our 4-year old program.
Children in our 3-year-old program and 4-year-old program must be toilet trained.
All children must have their immunizations up to date prior to starting school in September.
| CLASS | DAYS | ENROLLMENT | TUITION |
| --- | --- | --- | --- |
| 2 Years | T / Th | 10 | $200/month |
| 3 Years | M / W / F | 14 | $275/month |
| 3 Years | T / W / Th | 14 | $275/month |
| 4 Years | M / T / W / Th (Two Classes)) | 36 | $320/month |
PAYMENT INFORMATION & DEADLINES
Registration Fee
Registration fees for the school year will be $160 per child.
The registration fee will be due at the time of enrollment and is non-refundable for any reason if your child is placed in a class.
First Payment
The first tuition payment is due by June 1, 2024.
This tuition payment is nonrefundable if you withdraw your child from GHP for any reason other than illness, in which a note from the child's physician would need to be submitted to the GHP Director. Thirty (30) day notice is required to withdraw from the program without penalty.
Following Payments
The next payment is due July 1 and so on.
Any funds received after the 10th are considered late and subject to a $25 late fee.
Any checks returned for insufficient funds will be subject to a $35 additional charge.
Pay By Check
Checks made payable to Good Hope Preschool (GHP) may be mailed to:
Good Hope Baptist Church Preschool
Attn: Jetana McKinley
6628 Good Hope Church Road
Cary, NC 27519
We will not be able to hold spots for children unless the first tuition payment is made by June 1st. Please call the Preschool Office with any further questions at 919-467-8678.